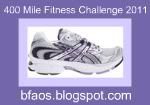 From the host
blog
:
"
I've seen lots of book challenges for 2011, but only a few fitness challenges, and none that were for the whole year of 2011, so I decided to start one to help me to lose some weight and get fit. It's easier to do it when you have the support and motivation from others trying to get fit too!
Please add the button to your blog to help draw in participants
Details:
The challenge will run from January 1st thru December 31st
The purpose is to reach the equivalent of 400 miles (at least) during the year, not a set number of miles a day.
Every Saturday starting 1/8/11, come back
here
and add the link to your update post. If you'd rather post an update every two weeks, that's fine too, but please visit a few participants every week and give them support.
Don't have a blog? That's ok. Just leave your progress update in the comment section of the Saturday post.
What counts:
mile for mile-
walking/jogging/running outside or inside on a treadmill
biking inside or inside on a recumbent, spin or stationary bike
WATP Mile DVD's: 1mile walk, 2 mile walk etc.
15 min. equals 1 mile-
cardio
step aerobics
swimming
weight lifting
workout videos
exercise classes
Minutes and miles can roll over:
If you only walk for 3/4 mile, or exercise for 10 minutes, you can add those minutes/minutes to the next day."